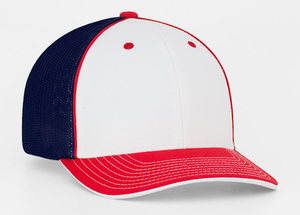 DETAILS: THE PACIFIC 404M COMES EQUIPPED WITH CONTRASTING UNDER-VISOR AND STITCHING TO ALLOW FOR GREATER CUSTOMIZATION.


CROWN: MID-PROFILE | PRO-MODEL
COOLPORT MESH: BECAME A TOP SELLER AMONG MESH STYLES IN THE NATIONAL MARKET. COOLPORT MESH IS CREATED FROM A SPECIAL FABRIC THAT ALLOWS BODY HEAT TO FLOW OUT AND COOL AIR FLOW IN.

UNIVERSAL FIT: IS CREATED WITH A WOVEN SPANDEX SWEATBAND THAT STRETCHES TO FIT A RANGE OF SIZES. UNIVERSAL FITTED CAPS MOLD TO THE SHAPE OF YOUR HEAD PROVIDING THE MOST COMFORTABLE CAP AVAILABLE.
VISOR: CURVED

CLOSURE: CLOSED BACK

FABRIC: M3 PERFORMANCE | SPANDEX TRUCKER MESH

SIZE: FLEXFIT® | XS (6 3/8 - 6 7/8), SM-MD (6 7/8 - 7 3/8), L-XL (7 3/8 - 8) (REFER TO THE UNIVERSAL CAP SIZING CHART)

KEY FEATURES: PRO-STITCHED FINISH | FRONT PANEL EYELETS | CONTRAST STITCHING ON COMBO COLORS | HALF PIPING | BREATHABLE | MOISTURE-WICKING